June 23, 2015
by Loganayaki Thamilselvan
9 Comments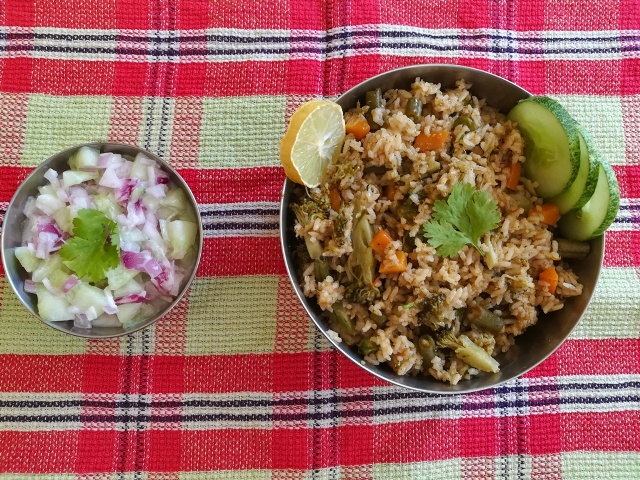 How to prepare vegetable Biryani recipe ?
Vegetable biryani recipe is one of Popular Indian Food made with easily available ingredients. A Classic Indian vegetable biryani is a perfect dish for any occasion. Sometimes there are only a few special days in which many houses have a spicy vegetable biryani recipe as a food. At the present time people are preparing vegetable biryani even for small function.
Try this tasty Vegetable biryani recipe to impress your friends and family. Lets see how to make simple vegetable biryani recipe.
Ingredients for vegetable biryani recipe:
Basmati rice – 2 cups
Carrot – 1/4 (chopped)
Beans – 1/4 (chopped)
Peas – 1/2 cup
Potato – 1/4 cup (cut in to cube shape)
Cauliflower florets – 1/4 cup
Soya beans – 1/4 cup (soaked in warm water, drain the water completely) optional
Cashew nuts – 25 grams (optional)
Onion – 2 nos (sliced)
Green chili- 3 nos
Ginger garlic paste – 1 spoon
Tomato (big) – 1 (chopped)
Chilli powder – 1 teaspoon
Kashmiri chili powder – 1 teaspoon
Garam masala – 1 spoon
Coriander powder – 2 teaspoons
Turmeric powder- a pinch
Biryani masala – 1 spoon
Curd – 3 spoons
Lemon juice – 1 spoon
Mint leaves – 1 handful (chopped finely)
Coriander leaves – 1 handful (chopped finely)
Salt to taste