How to make homemade eggless chocolate cake recipe without oven
There's no need for eggs in this incredible chocolate cake. Here we are going to see how to make homemade eggless chocolate cake recipe without oven. It's a great recipe for those with egg sensitivities. This is a simple recipe to do in the comfort of your home. This recipe is great delicious, moist and eggless cake to satisfy your chocolate cravings.
Ingredients:
Sunflower oil – ½ cup
Condensed milk – ½ cup
Sugar – ½ cup
Milk – 1/2 cup + 4 spoons
Coco powder – 3 spoons
Maida or wheat flour – ¾ cup
Salt a pinch
Baking powder – ½ spoon
Baking soda – ¼ spoon
Vanilla essence – 1 spoon
Vinegar or lemon juice – 1 spoon
For frosting:
Nescafe sun rise – 1 ½ spoons
Powdered sugar – 5 spoons
Hot water – 4 spoons
For sugar syrup:
Water – 3 spoons
Sugar – 3 spoons
Steps to cook homemade eggless chocolate cake:
At first take a wide glass bowl. Add half cup sun flower oil followed by condensed milk and sugar. mix well until smooth using hand blender or whisk.
Next add dry ingredients, take a flour strainer. now add ¾ cup maida or wheat flour, then add 3 spoons coco powder, ½ tea spoon baking powder, ¼ tea spoon baking soda, salt a pinch. now sieve the mixture on the wet ingredients.
Now mix well the cake mixture by slowly adding 1/2 cup + 4 spoons of milk, and then add vanilla essence, vinegar or lemon juice and mix well.(cut fold method and don't over mix)
The homemade eggless chocolate cake mixture should be flowing consistency (not more thinly)
Next take a cake tin Grease with oil or butter then dust some flour around the cake mould.
Next pour the cake mixture and tap twice. (To remove air bubbles in cake mixture)
Take idly cooker add two cups of salt and spread evenly.
Now place a stand inside the idly cooker then cover with lid and heat in a medium flame for 5 minutes.
It is a time to place a cake tin inside the idly cooker carefully and close the lid.
Then cook the cake up to 30 to 45 minutes in a low flame.
After 30 minutes open the idly cooker and check it with the help of knife. (Put the knife on the center part of the cake)
If knife comes out clean means cake completely cooked. If not means cook for another 10 minutes.
After homemade eggless chocolate cake completely cooked, switch off the stove and take a cake from idly cooker.
Take a knife and release edge of the cake sides, then cool the cake completely in room temperature.
It is a time to demould the cake in a plate.
Steps to make cake frosting:
For frosting i am using Dalgona coffee frosting, take a bowl add 1 ½ spoons of Nescafe sunrise, five spoons of powdered sugar and 3 spoons of hot water then mix well till it become frothy.
Cake frosting is ready.
Steps to make sugar syrup:
Take a heavy bottom pan add water and sugar then cook till sugar completely dissolve.
Now sugar syrup is ready, keep it aside.
Homemade eggless chocolate cake frosting:
Take a homemade eggless chocolate cake slice the cake in to half and remove the top skin of the cake slightly to get correct shape and keep it aside.
Now take a sugar syrup and apply it on the bottom portion of a cake.
Next apply frosting cream on the cake gently.
Now place the top layer of the cake, spread sugar syrup and apply frosting on the top layer then entire cake fully.
At last decorate with some nuts and chocolate shreds.
Yummy and tasty homemade eggless chocolate cake is ready to eat.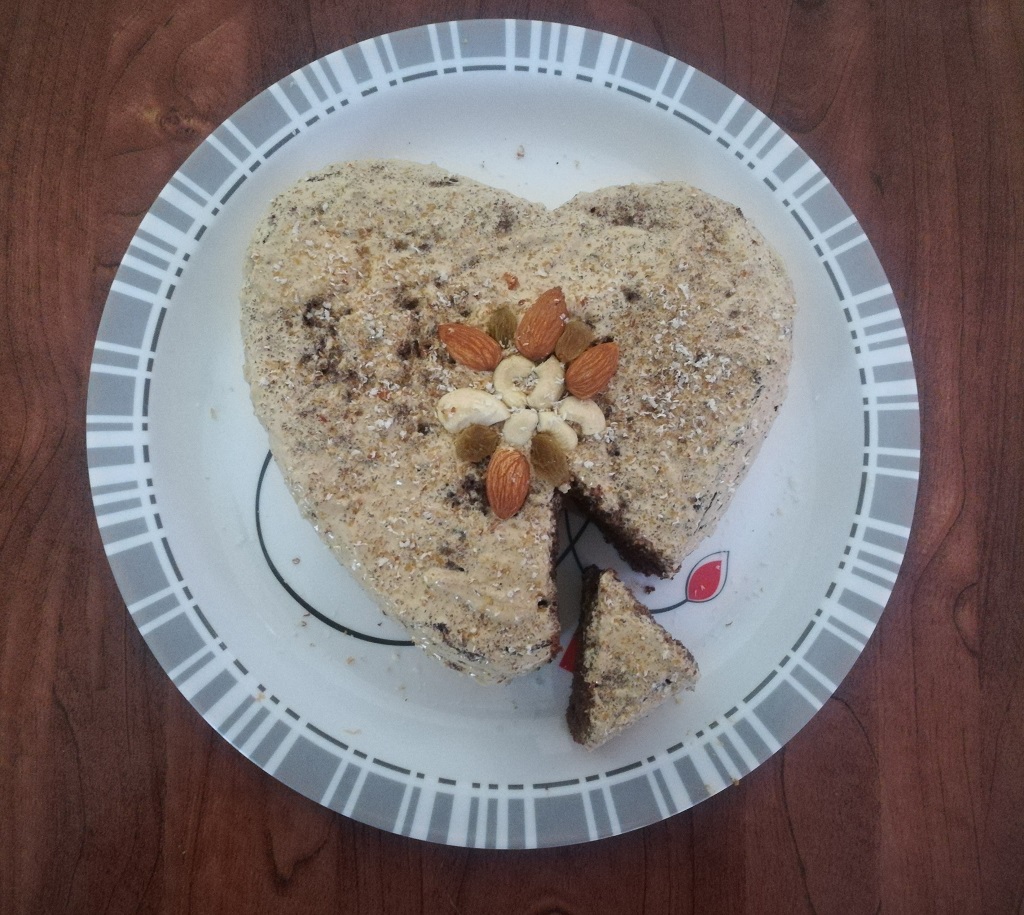 Notes:
Important note is to check whether cake should be cooked or not after 30 minutes only.
For this recipe it takes 45 minutes to cook. (According to heat, timing should be varied)
If we open the cooker frequently means cake could be dip in center so don't Open often.
Here i used whole sugar for frosting; you can use powdered sugar for best result.
Here i am used idly cooker for baking if you have oven means baked in a preheated oven for 30 to 45 minutes.
I apply oil and maida for cake tin, for best result you put parchment paper, it is easily available in all departmental store.
Here i am used Dalgona coffee frosting you can also use your favourite frosting like vanilla or chocolate frosting.
This homemade eggless chocolate cake recipe without oven is making with simple ingredients.
More sweets and snacks Recipes from Famousindianrecipes.com | homemade palkova recipe | Thengai obbattu recipe | boondi ladoo recipe | rava laddu recipe | Dalgona coffee |