How to make boondi laddu recipe ?
If you ask your kids "kanna laddu thinna aasaiya" they will be very happy and say give me one more laddu ma…! boondi laddu recipe is my all time favorite sweet recipe. People also called it in different name like boondi ladoo recipe, bondi ka ladoo ( Boondi ke Ladoo). boondi ladoo recipe is a traditional Indian festival sweet that simply melts in your mouth often made for an auspicious or a pooja. now we can see how to make ladoo at home with simple steps.
Ingredients:
Gram flour – 1 kilogram
Salt – ½ teaspoon
Sugar – 2 kilo grams (1 ½ kilo gram if sugar size is big)
Ghee – 100 grams
Cashew nuts – 100 grams
Raisins – 100 grams
Ellachi (cardamom) – 30 grams (powdered)
Edible camphor – a pinch (optional)
Small sweet candy – 100 grams optional
Food colour – 20 gram (optional)
Oil – 1 ½ litter
Water as required
Steps to cook syrup:
At first take a bowl in that add sieved gram flour, ½ tea spoon salt and required water then mix well.
The batter should not be too thick or too thin. It would be perfect bonda batter consistency then keep it aside.
Now take a heavy bottom pan in that add 2 kilogram sugar and 1 and half litter water for making sugar syrup.
Stir the syrup occasionally, after syrup boiling, check consistency of sugar syrup and add Ellachi powder in to the sugar syrup and boil for 5 minutes (at this stage add colouring agent if you want)
Touch the syrup using your finger and check whether it is one string consistency or not.
If sugar syrup attains the stage of one string consistency means switch off the stove and keep it aside.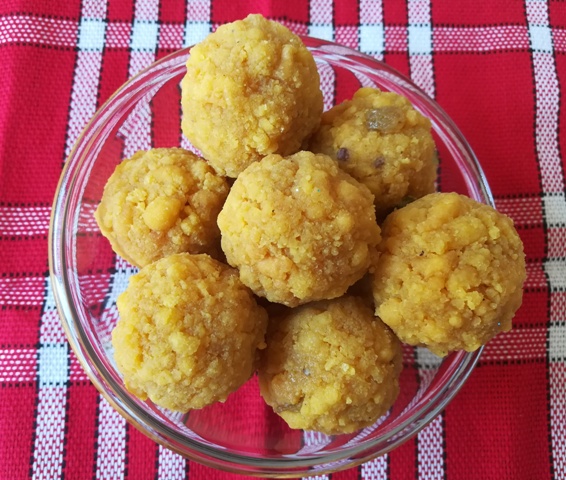 Steps to prepare Boondi laddu recipe
After prepared sugar syrup now take a frying pan, in that add oil for frying, when it is heated pour gram flour batter with the big ladle, wait for a minute and then tap in circular motion till batter completed in ladle.
Now wait for a minute then stir the boondi in oil and take it out when it become golden yellow colour.
Pour fried boondi in sugar syrup and mix well using thuduppu.
Same process should be done for making boondi till all the batter completed.
In mean while take a mini pan in that add ghee when it is heated add cashew and raisins then fry it become golden yellow colour.
Next add fried cashew and raisins into the boondi mixture and mix well.
In this stage if you want means add cloves, edible camphor and small sweet candy in to the boondi mixture and mix well. ( Don't smash boondi too much).
Finally time to making a laddu, take a boondi mixture in your palm and make it a medium size ball. (Same process will be done till all boondi mixture finished)
Next transfer the south Indian boondi ladoo recipe in serving plate.
After 15 minutes transfer laddu in air tight container and use it for maximum 10 days.
Now traditional and Easy Perfect Boondi Laddu is ready to serve.
Notes:
The gram flour batter will not too thin if it means it absorb lot of oil in boondi. So check the correct consistency of batter.
If your children like laddu means don't add cloves and edible camphor, some children's are don't like that flavour.
Sugar syrup consistency is very important for making laddu. If we miss the correct consistency means total process will be waste. So take extra care for making sugar syrup.
More sweet recipes from Famous Indian Recipes : rava laddu recipe | sabudana payasam recipe | gulab jamun recipe | Rava kesari recipe